Posts Tagged 'as seen in Red Magazine'
OK! Summer is officially here! After a dreary long ass winter, greys and black… we need colour! And lotts of it! Great on the beach or in the day, glam it up!
Boys and Girls… add bright colours, bracelets, stack them, all sorts. GO FOR IT!
Girls In Glasses: Paul Smith

Left to right: Paul Smith and Vivienne Westwood
Boys don't make passes at girls who wear glasses. Not even if they're worn with as much vim as they were at Paul Smith? Bespectacled models in sharp tailor jackets and cigarette pants cut an appealing figure. Marc Jacobs and J Crew also sent out girls with four eyes instead of two in New York last week. Clearly, not seeing, um, clearly is cool. PL
Will it work? If your vision is less than 20/20.
Where else? Vivienne Westwood
3/5
London Fashion Week autumn/winter 2012: Stella McCartney eveningwear show
The Big Ball(sy) Skirt: Stella McCartney

Left to right: Stella McCartney and Giles
Swish, swish, swish, here come the skirts. How feminine, how flirty – and how modern, thanks to that larger-than-life marbling and obligingly architectural duchesse satin. This is the Mad Men Skirt for women who normally prefer something harder edged and just a bit arty. McCartney had other mould-breakers up her sleeves, too. Think lace is too twee ? Try a thick-as-crochet tangerine weave appliquéd onto a flesh-coloured mesh column dress and await the flashbulbs. Coming to a red carpet soon. LA
Will it work? Yes, this concept suits pretty much everyone, but you'll need a big ball(sy) heel. Ballerina length's the way to go.
Where else? Roksanda Ilincic, Giles, Emilia Wickstead, Mary Katrantzou
3/5
Military Manoeuvres: McQ

Left to right: McQ and Burberry
Attention! For instant promotion up the fashion ranks, simply advance to your nearest army surplus store. For this long-standing masculine trend invaded womenswear this season, no more so than in McQ's opening section of two-toned soldier-girl outfits shot through with "Black Watch" tartan, ceremonially-high spit-and-polished boots and furry-epauletted submariner knits. After the uniform came some crazily over-the-top flower-strewn ballet dresses. LL
Will it work? Only for the brave: and don't be too literal.
Where else? Burberry, Belstaff, Christopher Raeburn, and the beavers at Temperley
4/5
The Longer Skirt: Roksanda Ilincic

Left to right: Roksanda Ilincic and Topshop Unique
We're talking really long – not just below the knee, but right past the lower shin. That creates a lean sinuous line that brings to mind white Russian emigres or slinky Thirties illustrations from artists such as Christian Berard – unless they're Ilincic's full-circle skirts, which brings to mind pictures of the young Queen Elizabeth in the early Fifties. But Ilincic reared back from the precipice of parody by teaming her languid lengths with blouson tops or big glittery tweed blazers, and occasionally trimmed her pencil skirts with the deep ruffle hem that has become one of her trademarks. As usual, it's her colour mixes that intrigued: claret with deep violet or turquoise. LA
Will it work? Especially if you're tall and slender and game for a five-inch heel. Ilincic jacked her models up on canary-yellow ones and got herself a statement look.
Where else? Jonathan Saunders, Topshop, JW Anderson
3/5
New York Fashion Week autumn/winter 2012 trend round-up
ALL PHOTOS BY VLADIMIR POTOP
Do trends count for anything anymore? The frequently aired view of the sophisticated fashion consumer is that they don't matter to anyone apart from Chinese teens converging on Topshop.
At the risk of parroting Meryl Streep in The Devil Wears Prada, trends mean everything in fashion. Sure they can be and often are, a blind alley, but they can also be the first whispers of a uniform that sweeps the world. London Fashion Week traditionally lights the touch-paper of a new idea, stands back – and waits for everyone else to reap the profits. But not anymore. Alongside those mad, sublime moments of individual creativity, London had a consensus of ideas. That doesn't mean we'll be bludgeoned into conformity, because there are enough trends to allow for maximum manoeuvre and every designer had their own interpretations. So make way for big skirts and slinky ones, kick flares and leggings, padded hips, long knits, winter florals, military, the upscale parka and military. There's plenty to tempt.
But a fashion week can no longer simply be judged solely in terms of its ideas. Its commercial clout has to be on display. This season saw Stella McCartney and Alexander McQueen come home, albeit with caveats. McCartney's show may be a one-off before she returns to Paris. McQueen showed its diffusion line. But even these gestures would have been unthinkable four years ago. As a showcase for fashion, London's arrived. It even played host to an Italian brand, Moschino Cheap and Chic, this week.
This certainly counts for something. Ever since London Fashion Week began to be regarded as a serious player among the fashion capitals, the home team designers have walked that bit taller. There's a growing belief that if Burberry can base itself here and still go global, so can they. Mulberry is on its way, registered a tripling of pre-tax profits in December 2011 and with a new COE from Hermès. But even if they don't all make it, they'll have given us some great clothes.
KEY
5/5 – Destined for the masses
4/5 – Bound to be big
3/5 – For the fashion conscious
2/5 – Strictly attention seekers
1/5 – Rather be naked
The Hip Replacement: Antonio Berardi

Left to right: Antonio Berardi and Mary Katrantzou
Take a pair of normal hips then amplify them with padding. It shouldn't work but in Berardi's hands it looked elegant and oh so flattering. Dresses and jackets were padded with horse-hair and lined with silk chiffon (no animals were harmed in the making of these clothes, we were promised, although a few brains may have been sorely taxed: one dress comprised 78 pieces and every single seam on every garment was curved) This is how to wear a peplum – not as a Dallas-meets-Pat Butcher soggy tribute but as a piece of silky sculpture. LA
Will it work? Yes, for those who like their Forties updated.
Where else? Stella McCartney, Mary Katrantzou, McQ, PPQ, Burberrry
4/5
Street style at London Fashion Week autumn/winter 2012
Winter florals: Erdem

Left to right: Erdem and Giles
Floral is a spring-trend staple that tends to wither in winter. Not this time: Erdem was London's florist-in-chief via his trademark one-two of neatly-demure silhouettes heaped with flower upon flower upon flower. From the floral black lace overlays to the blurry 3D-effect (without the glasses on) turquoise and yellow on silk (with blue lace flowery, arms) this was a show to rival Chelsea. Even his shoes were flower bedecked. LL
Will it work? There's no reason why florals shouldn't be hardy fashion perennials.
Where else? Giles, Temperley London, Christopher Kane, McQ, Maarten Van Der Horst
3/5
The Big Knit: Jonathan Saunders

Left to right: Jonathan Saunders and Acne
A generously-proportioned jumper that ends sub-buttock will a) keep you warm and b) act as a midwinter-mini. This a heady combo particularly well utilised in Jonathan Saunders' acid-coloured, Japanese-equestrian (it's a long story) collection, was one of this weeks finest. This big knit incorporated check, another strong trend in London. LL
Will it work? Everywhere, and for nothing: simply pinch a man's jumper and pin up the sleeves.
Where else? Christopher Kane (overlayed with mesh wires), Mary Katrantzou (embroidered with star-dust crystal) Mulberry (monstrous) and Acne (long and lime)
4/5
London Fashion Week autumn/winter 2012: Models off duty
Quilty Complex: Peter Pilotto

Left to right: Peter Pilotto and Christopher Kane
Keeping warm was on the brains of many, although not the poor loves risking hypothermia in their fashionable spring jackets. A pragmatic padded coat simply doesn't cut the street snappers' mustard – yet. Peter Pilotto's fabulously quilted printed jackets for next winter offered warmth and style in spades. Some were prettified with a little frilled hem, and teamed with cocktail dresses and convincingly sold as evening wear – music to the camera slaves' ears. PL
Will it work? Day time, night time – it will work overtime.
Where else? Christopher Kane, Marios Schwab, JW Anderson
3.5/5
Brocade: Osman

Left to right: Osman and Temperley
Why should C18th fops have all the fun? We've secretly loved this fabric for years, so allow us a moment of joy because it's everywhere. And no one cuts a sharper pair of trousers than this man. If London can't quite decide whether to keep it skinny or experiment with a kick flare that starts at the knee, consider it a bonus. In the world's first parliamentary democracy, no one trouser shape should dominate. Let's hear it for proportional representation. LA
Will it work? Yes, in a similar way to marmite. You either love this or hate it. But however much you adore brocade, limit yourself to one piece at a time time. Keep the rest low-key and you can wear this day to night.
Where else? Michael van der Ham, Temperley, Kinder Aggugini
4/5
London Fashion Week autumn/winter 2012: stars on the front row
Leggings: Clements Ribeiro

Left to right: Clements Ribeiro and Issa
Leggings were flatlining – then Clements Ribeiro's show happened. Every look with a skirt or dress came with a pair. It was a brilliant defibrillator for a previously dead-in-the-water trend. The new way of doing them is under longer lengths (something bright or patterned looks might pretty), and for evening, bare legs be damned. PL
Will it work? With a bit of mental rewiring – think slim midi skirts and heels instead of minis and ballet pumps.
Where else? Issa
3/5
Grab em and stack em!
This summer it's all about mix & match with bracelets , necklaces and Earrings! MORE is MORE!! Chains, beads, charms … throw them all on for an effortless look!
Symbol meaning of feathers deal with ascension and spiritual evolution to a higher plane. Feathers were worn by Native American Chiefs to symbolize their communication with Spirit, and to express their celestial wisdom. Also in the Native American Indian culture, feathers represented the power of the thunder gods, along with the power of air and wind.
Native American Pueblo Indians would pay homage to the Feathered Sun which is a symbol of the cosmos and the center of existence. Another symbol meaning of feathers also revolves around prayer, and the Pueblo use feather sticks as they dance in prayer for rain during solstice rituals.
As a Celtic symbol meaning, the feather was worn by Druids in the form of ornate feathered robes. Celtic Druids donned these robes in ceremonies to invoke the sky gods and gain knowledge of the celestial realm. It was believed that the feathered cloak along with the presence of the sky gods would allow the Druid to transcend the earthly plane and enter the ethereal realm.
The Egyptians believed that feathers were symbolic of sky gods too. Ma'at, the Egyptian goddess of justice, would weigh the hearts of the newly dead in the underworld against the weight of a feather to determine the worthiness of his or her soul.
In Christianity feathers represented virtues. In fact, an image of three feathers were made into signet rings – each feather symbolizing Charity, hope, and faith. These rings were worn as a symbol of a virtuous soul – they were also used as wax seals. The ring would be dipped in warm wax then pressed against documents to seal the closure. The recipient would know the documents came from a virtuous man by the indication of the three-feather symbol in the wax.
In dreams feathers mean travel or the ability to move more freely in life. White feathers in dreams indicate innocence or a fresh start in a spiritual sense.
A quick summary on symbol meaning of feathers:
* Truth
* Speed
* Lightness
* Flight
* Ascension
Love & Blessings
THE Zodiacal Sign of Aquarius commences on January 21st, but for seven days, being overlapped by the "cusp" of the previous sign, it does not come into full power until on or about January 28th. From this date onward it can not take its full strength until February 19th and is then for seven days gradually losing its strength on account of becoming overlapped by the "cusp" of the incoming sign Pisces. Those born people who were born in such "cusp" usually take from the qualities of both signs. These natures generally tend to feel very lonely in life. They are over-sensitive, and easily wounded in their feelings. AQUARIANS have great desire for material gain, but are not greedy. They are tireless workers and are willing to work for what they want, and do not demand more than their fair share. They read character instinctively, and for this reason they "see through" people too easily to be really happy. 
People who were born in February are not demonstrative in affection, but feel very deeply. 
They are usually high-strung, and their nerves are generally overwrought. This people often lose control and then say or do things that they bitterly regret later. 
They are generally very active for the public good, and often give all they have to relieve the distress of others. 
They are good thinkers, and are very successful when it comes to debate and argument, and difficult to convince. 
They are excellent in business and finance when they apply their minds to such things, but usually they are more successful for others, and make more money for other people than for themselves. Such people are a seekers of knowledge, rational, open-minded, gifted with breadth of vision. 
If people born in this sign manage overcame their sensitiveness and developed their will-power, there is no position they would not be able to attain. They are usually successful in some large sphere of action, where they can feel their responsibilities for others. As an idealist AQUARIANS would like to see that everybody is happy and their ambition is to do something important and meaningful. 
They take a great interest in public meetings, gatherings of people, and public ceremonies. In spite of the fact that such people love theatres and concerts, and like to be where crowds of people congregate, they often feel lonely. 
If born with money, these people rarely show who they are. They are inclined to let their opportunities slip, or realize them only when it is too late. If, however, people born in this period belong to the lower order of humanity they inclined to lose all sense of honor and principle, and are extremely unreliable, tricky in money matters, dishonest, and unscrupulous in gaining what they desire. 
As a lovers these people are full of surprises. They simply cannot be happy or fulfilled unless they are free to do as they like. No matter how deeply in love these people may be, they are never willing to sacrifice their autonomy, but they always put honesty ahead of romance. 
In general, it is not true that all people who were born in this time are evil people. In fact, those with the Sun in Aquarius are sometimes «one set against many» against great odds or against an institution; for light are at enmity with darkness in the same way that lions are at enmity with hyenas.
Aquarius – The Sign of the Water Bearer
The Aquarias' symbol is the man, who is holding two vessels in his hands : one contains alive water , another – dead. It symbolises the division between good and evil, black and white. It is in the Aquarias' nature to be interested in science's advanced achievements. For example – computers. In general ,he loves to use any modern technical achievements. Sometimes, he shows such a great interest in them, that they can replace contact with people at all. The inner world of people who were born under the sign of The Aquarias is very unstable. There are rather frequently the revolutions take place. That is why these people are usually moody . Though the Aquarias loves everything new he can find there something old .
Friends
They tend to collect friends the way some people put together an art collection. The typical AQUARIAN may have so many friends, but very few confidants. In real friendship or love they get on best with those born from May 21 to June 20, October 20 to 27, and, as a rule, with those who were born in November.
Health
These people are inclined to suffer most from the stomach, often through the nerves of the stomach in some peculiar manner that is difficult to relieve with ordinary medicine. Bad circulation often troubles them and there is often some delicacy of the eyes.
Color
The most favorable colors for them are all shades of what are known as "electric shades," as electric blues and electric grays.
Stones
The birth stones for the period are sapphires, pink topazes, and moonstones.
Gems are one of nature's ways of saying, "look how beautiful I can be", and people know it, too. For thousands of years humans have been adorning themselves with gems and jewels to stand out and wow an audience. Be it necklaces, brooches, pendants, or bracelets, precious and rare gems have long since become one of the favored ways to express just how much wealth one has. Here are the ten rarest gems on earth.
10. JeremejeviteUSD $2000/Carat
Pronounced ye-REM-ay-ev-ite, this is a colorless, sky blue or pale yellow stone, the highest quality of which comes from Namibia. In nature it occurs in small obelisk-shaped crystals and has in the past been mistaken for aquamarine. It was named after Russian mineralogist Pavel Jeremejev who discovered the mineral in 1883. As of early 2005, a clean, 2.93-carat faceted gem was selling on the Internet for $2000.00 per carat.
9. Black OpalUSD $2,355/Carat
Australia is the classical Opal country and today is the worldwide most important supplier of Fine Opals. Almost 95 per cent of all Opals come from Australian mines. The remaining five per cent are mined in Mexico, and in Brazil's north, also in the US states of Idaho and Nevada, but recently the stones have also been found in Ethiopia and in the West African country of Mali. Black Opal or Opal with a dark gray body shows the most brilliant play of colors imaginable.
8. Red Beryl EmeraldUSD $10,000.00/Carat
Red beryl is found primarily in the Thomas Range and the Wah Wah Mountains of Utah, and has also been reportedly found in a location in Mexico (possibly near San Luis Potosi one of the very few places beryl is also found on rhyolite). Where it is found in Utah it occurs on rhyolite, where it crystallized under low pressure and high temperature, along fractures or cavities and porous areas of volcanic rhyolitic magma. Very few cut specimens exist.
7. MusgraviteUSD $35,000/Carat
Musgravite is one of the newest and most rare gemstones in the world. Musgravite is a silicate mineral whose main ingredients are beryllium (Be), magnesium (Mg) and aluminum (Al). It was named 'musgravite' after the area Musgrave in Australia from where the material was first found. The musgravite was later found also in Greenland and Madagascar, but neither of them produces gem quality material. Two pieces of faceted gem-quality musgravite from Sri Lanka were reported first in 1993. Keep in mind, this is the LEAST priceless of the ten.
6. GrandidieriteUSD $50,000/.5 Carat
This is a bluish green mineral found primarily in Madagascar. The first and so far only clean faceted specimen, from Sri Lanka, was originally mistaken for a serendibite and subsequently purchased in May 2000 by Prof. Gübelin from Murray Burford. The gem shown above weighs 0.29 carats. Grandidierite is trichroic, transmitting blue, green and white light. The mineral is named after French explorer and natural historian Alfred Grandidier, who among other things unearthed bones from the extinct half-ton elephant bird in Ambolisatra, Madagascar.
5. PainiteUSD $50-60,000/Carat
This gem was once believed to be the rarest mineral on earth, is today still considered very rare. British mineralogist 1950s first discovered it in Myanmar. When it was confirmed as a new mineral species, it was named after him: Arthur C.D. Pain. For many years, only three small painite crystals were known to exist. Before 2005 there were less than 25 known crystals found, though more material has been unearthed recently in Myanmar.
4. Blue GarnetUSD $1.5 Million/Carat
Garnets species are found in many colors including red, orange, yellow, green, blue, purple, brown, black, pink and colorless. The rarest of these is the blue garnet, discovered in the late 1990s in Bekily, Madagascar. It is also found in parts of the United States, Russia and Turkey. It changes color from blue-green in the daylight to purple in incandescent light, as a result of the relatively high amounts of vanadium. The most expensive, a 4.2 carat gem sold in 2003 for $6.8 Million.
3. SerendibiteUSD $1.8-2 Million/Carat
This gem is a cyan colored stone that comes from Sri Lanka. It boasts an unusually complex formula consisting of calcium, magnesium, aluminum, silicon, boron and oxygen. So far there exist only three faceted (cut) specimens of 0.35 carats, 0.55 carats and 0.56 carats. The first two were discovered by rare stone specialist D. P. Gunasekera and purchased by the late Prof. E. J. Gübelin of Switzerland. The smallest was sold for about $14,300.00 per carat.
2. Red DiamondsUSD $2-2.5 Million/Carat
Only a very few red diamonds are ever found, and few people have only seen even one treated red diamond. The gem is described as a purplish red, so it is not a pure red, crimson, vermilion, or scarlet. Nevertheless for its size it is one of the most expensive diamonds ever. The Argyle Mine in Australia produces a small number of red diamonds. The largest and finest of these are auctioned every year or two, and sell for millions of dollars.
1. JadeiteUSD $3 + Million/Carat
Until recent years jadeite has been something of a mystery mineral, but we now know of primary sources in Guatemala as well as several California occurrences of white or grayish jadeite. Boulders in which a few small freestanding crystals have been seen occur in San Benito Co., California, with additional finds in Clear Creek, between New Idria and Hernandez. All Mexican jadeite is in artifacts, from unknown sources. The record price for a single piece of jadeite jewelry was set at the November 1997 Christie's Hong Kong sale: Lot 1843, the "Doubly Fortunate" necklace of 27 approximately .5 mm jadeite beads sold for US$9.3 million
Oracabessa Bay 
St. Mary, Jamaica 
TEL: 876 975-3354 
TEL: (800) 688-7678
Jet-set bohemians and creative types have flocked to GoldenEye since the mid 20th century, when it was the cliff-top retreat of Ian Fleming, who wrote 14 of his James Bond novels here. Fresh from a two-year overhaul completed in 2010 courtesy of its current owner, Island Records founder Chris Blackwell, the property has morphed from private villa rental to full-fledged 22-room hotel. But thanks to Blackwell's irrepressible, highly personal touch, the mood remains the same: a tropical playground for well-traveled expats from some latter-day Noël Coward play. Amid gardens of banyan and mango trees, the new waterfront cottages have ultramodern amenities (kitchen appliances by Renzo Piano) and design flourishes from Blackwell's stylish friends (including Barbara Hulanicki of Biba and Pink Sands fame). Fleming's original three-bedroom villa is available for booking and still features the writer's own desk, carved out of Jamaican red bulletwood and surrounded by louvered windows looking out to the sea.
Room to Book: 
Live like 007 in the Fleming Villa, where you'll find the author's original writing desk, at which he penned all 14 James Bond novels. This piece of history still occupies pride of place in the master bedroom.
Insider Tip: 
Jet Ski past hidden estates and old Jamaican neighborhoods on your way to Laughing Waters, the private beach onto which a white-bikini-clad Ursula Andress famously emerged in Dr. No.
Ok… we've all seen it, most of us are wearing them! BRACELETS! Tuns of them, all different shames and sizes, colours and textures…. docent matter if there antique or modern, dainty or chunky… 
The trick is to chuck them all on and look effortless. For some reason… it works!
So boys and girls… stack them!

Horus
(Hor, Heru, Her)
Symbols: hawk/falcon, bull, Double Crown, Winged Disk,Udjat, Sphinx, weapons, iron, blacksmiths
Cult Center: Edfu, Buto and Heliopolis
Myths: Isis and Osiris 
The falcon-headed god, the kings of Egypt associated themselves with Horus. Horus was among the most important gods of Egypt, particularly because the Pharaoh was supposed to be his earthly embodiment. Kings would eventually take the name of Horus as one of their own. At the same time, the Pharaohs were the followers of Re and so Horus became associated with the sun as well. To the people this solar deity became identified as the son of Osiris. Attempts to resolve the conflicts between these different gods in different parts of Egypt resulted in at least fifteen distinct forms of Horus. They can be divided fairly easily into two groups, solar and Osirian, based on the parentage of the particular form of Horus. If he is said to be the son of Isis, he is Osirian; otherwise he is a solar deity. The solar Horus was called the son of Atum, or Re, orGeb and Nut variously.
As Harsiesis, he is "Horus, the son of Isis". Horus was conceived magically by Isis following the murder of his father, Osiris. Horus was raised by his mother on the floating island of Chemmis near Buto. He was in constant danger from his evil uncle Seth but his mother protected him and he survived.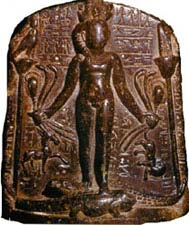 As a child, Horus was known as Harpokrates, "the infant Horus", and was portrayed as a baby being suckled by Isis. He was said to be stunted from the waist down. This may be because his father was dead when he was conceived or perhaps because he was born prematurely. In later times he was affiliated with the newborn sun. Harpokrates is pictured as a child sucking his thumb and having his hair fashioned in a sidelock that symbolized his youth. On his head he wore the royal crown and uraeus. Also, in Egyptian art, such as the example to the right, Harpokrates is shown as a child with the sidelock of youth standing on crocodiles and holding in one hand scorpions and in the other hand snakes.
As Harmakhis, "Horus in the Horizon", he personified the rising sun and was associated with Khepera as a symbol of resurrection or eternal life. The Great Sphinx at the Giza Plateau is an example of this form of Horus.
Haroeris, "Horus the Elder", was one of the earliest forms of Horus and the patron deity of Upper (southern) Egypt. He was said to be the son, or sometimes the husband of Hathor. He was also the brother of Osiris and Seth. He became the conqueror of Seth (the patron of Lower Egypt) c. 3000 BCE when Upper Egypt conquered Lower Egypt and formed the united kingdom of Egypt. He was depicted as a falcon-headed man, sometimes wearing the crowns of Upper and Lower Egypt.
Horus (the elder) had numerous wives and children, and his 'four sons' were grouped together and generally said to be born of Isis. The four were known as: Duamutef, Imsety, Hapi and Qebehsenuef. They were born from a lotus flower and were solar gods associated with the creation. They were retrieved from the waters of Nun by Sobek on the orders of Re. It was believed that Anubis gave them the funerary duties of mummification, the Opening of the Mouth, the burial of Osiris and all men. Horus later made them protectors of the four cardinal points. In the Hall of Ma'at they sat on a lotus flower in front of Osiris. Most commonly, however, they were remembered as the protectors of the internal organs of the deceased. Each son protected an organ, and each son was protected by a goddess.

Horus Behdety was a form of Horus the Elder that was worshipped originally in the western Delta at Behdet. As the son and heir of Re, Behdety was a form of Horus that was assimilated into the Heliopolitan system of beliefs yet not completely identified with Re. Behdety was a defender ofRe during his earthly kingship against Seth. He was usually portrayed as a winged sun-disk or as a falcon hovering over the Pharaoh during battles. When shown as a falcon-headed man wearing the double crown he carries a falcon-headed staff, the weapon he used to defeat Seth.