Archive For the 'Blog' Category
Best summer look with Agate necklace in Ibiza!
The gorgeous Erykah Badu, loving her!! Saw her last night in concert and she rocks!

Agate Gemstone meaning
This is THE stone everyone should have for protection. This group of stones are variegated chalcedony. (see also moss agate, eye agate) The agate is one of the oldest stones in recorded history.
Agates attract strength. Agate is a protection from bad dreams. It also protects from stress and energy drains. Agates have been used in jewelry since Biblical Babylonian times. They were used to ward off storms. They were prized gems in antiquity. The agates with banded colors were placed at the head of a sleeper to give rich and varied dreams. Agates have been thought to be good to harden the gums.
Healing properties of agate
Agate is used for stomach upsets. Place the agate on the solar plexus. The agate can't change emotions, but helps to change our level of acceptance of the emotion. Such as when you are very sad the agate will let you know that this will pass and help you get on to another and better day. This is why the Agate is considered so powerful as it gives us the strength to carry on. Carry an agate when you have to make an important decision.
Sources of agate
Probably the most famous place that agate is mined is Idar-Oberstein in Germany where it has been collected since 1548. Other locations to find agate are Uruguay, Brazil, United States, Mexico, Madagascar, Italy, Egypt, India, China, Scotland. 
Skull symbolism is the attachment of symbolic meaning to the human skull. The most common symbolic use of the skull is as a representation of death and mortality, but such a reading varies with changing cultural contexts.
Humans can often recognize the buried fragments of an only partially revealed cranium even when other bones may look like shards of stone. The human brain has a specific region for recognizing faces,[1] and is so attuned to finding them that it can see faces in a few dots and lines or punctuation marks; the human brain cannot separate the image of the human skull from the familiar human face. Because of this, both the death and the now past life of the skull are symbolized.
Moreover, a human skull with its large eye sockets displays a degree of neoteny, which humans often find visually appealing—yet a skull is also obviously dead. As such, human skulls often have a greater visual appeal than the other bones of the human skeleton, and can fascinate even as they repel. Our present society predominantly associates skulls with death and evil. However, to some ancient societies it is believed to have had the opposite association, where objects like crystal skulls represent "life": the honoring of humanity in the flesh and the embodiment of consciousness.
About the Exhibition
Alexander McQueen: Savage Beauty, located in the Iris and B. Gerald Cantor Exhibition Hall, second floor, is free with Museum admission.

There may be a wait to enter the exhibition. To minimize your chances of waiting in line, please consider visiting in the morning or on a weekday. The entrance line closes at 4:30 p.m. on weekdays and 8:00 p.m. on Fridays and Saturdays. Visitors can now purchase timed tickets to view the exhibition on Mondays, when the Museum is closed to the public. Purchase tickets to Met Mondays with McQueen.

Museum Members receive priority access to the exhibition Tuesdays through Sundays. To bypass the entrance line, purchase a Membership online or at the Membership Desks in the Great Hall or Uris Center for Education (accessible through the 81st Street entrance).

This exhibition may not be suitable for children under five years of age. Strollers are not permitted inside the exhibition.

See Plan Your Visit for Museum hours, directions, and admission information. Save time by purchasing general Museum admission in advance.

Video Transcript

I'm Andrew Bolton, the curator of the exhibition

Alexander McQueen: Savage Beauty

. I think the title "Savage Beauty" very much epitomizes the contrasting opposites in McQueen's work. As you enter the exhibition, you're faced with two mannequins—the two mannequins that I think represent many of the themes and ideas that McQueen revisited throughout his career: polarized opposites, whether it's to do with life or death, lightness or darkness, predator/prey, man/machine.

The first gallery you enter is called "The Romantic Mind," which is made out of concrete, in a way reflects the rawness of some of the clothes you see in the particular space. It's inspired by McQueen's first atelier in Hoxton Square, where McQueen established his house. McQueen trained in tailoring in Savile Row. McQueen was a remarkable craftsman. He was able to channel the skills of his craft, but also to use fashion as a vehicle to express very complex ideas and concepts. And I think in this particular exhibition, and in this gallery in particular, you see how McQueen would master the crafts of his trade and subvert them.

Read More
The exhibition, organized by The Costume Institute, celebrates the late Alexander McQueen's extraordinary contributions to fashion. From his Central Saint Martins postgraduate collection of 1992 to his final runway presentation, which took place after his death in February 2010, Mr. McQueen challenged and expanded the understanding of fashion beyond utility to a conceptual expression of culture, politics, and identity. His iconic designs constitute the work of an artist whose medium of expression was fashion. The exhibition features approximately one hundred ensembles and seventy accessories from Mr. McQueen's prolific nineteen-year career. Drawn primarily from the Alexander McQueen Archive in London, with some pieces from the Givenchy Archive in Paris as well as private collections, signature designs including the "bumster" trouser, the kimono jacket, and the three-point "origami" frock coat are on view. McQueen's fashions often referenced the exaggerated silhouettes of the 1860s, 1880s, 1890s, and 1950s, but his technical ingenuity always imbued his designs with an innovative sensibility that kept him at the vanguard.
The exhibition is organized by Andrew Bolton, curator, with the support of Harold Koda, curator in charge, both of The Costume Institute. Sam Gainsbury and Joseph Bennett, the production designers for Alexander McQueen's fashion shows, served as the exhibition's creative director and production designer, respectively. All head treatments and masks are designed by Guido.
Located in the Iris and B. Gerald Cantor Exhibition Hall, second floor, the exhibition is free with Museum admission. See Plan Your Visit for Museum hours, directions, and admission information.
The Romantic Mind
"You've got to know the rules to break them. That's what I'm here for, to demolish the rules but to keep the tradition."
—Alexander McQueen
McQueen doggedly promoted freedom of thought and expression and championed the authority of the imagination. In so doing, he was an exemplar of the Romantic individual, the hero-artist who staunchly follows the dictates of his inspiration. "What I am trying to bring to fashion is a sort of originality," he said. McQueen expressed this originality most fundamentally through his methods of cutting and construction, which were both innovative and revolutionary. This technical ingenuity was apparent as early as his graduation collection from the Fashion Design MA course at Central Saint Martins College of Art and Design in London. Entitled Jack the Ripper Stalks His Victims (1992), it introduced such iconic designs as the three-point "origami" frockcoat. In his first collection after graduating, entitled Taxi Driver (autumn/winter 1993–94), McQueen launched his "bumsters," pants that sat so low on the hips that they revealed the buttocks. Indeed, McQueen was such a confident designer that his forms and silhouettes, such as the "bumster," were established from his earliest collections and remained relatively consistent throughout his career. Referring to his early training on Savile Row in London, he said, "Everything I do is based on tailoring." McQueen's approach to fashion, however, combined the precision and traditions of tailoring and patternmaking with the spontaneity and improvisations of draping and dressmaking—an approach that became more refined after his tenure as creative director of Givenchy in Paris from 1996 to 2001. It is this approach, at once rigorous and impulsive, disciplined and unconstrained, that underlies McQueen's singularity and inimitability.
Featured objects: Coat, Jack the Ripper Stalks His Victims; "Bumster" Skirt, Highland Rape; Dress, Plato's Atlantis; Jacket, Joan; Jacket, It's a Jungle Out There; Coat, Dante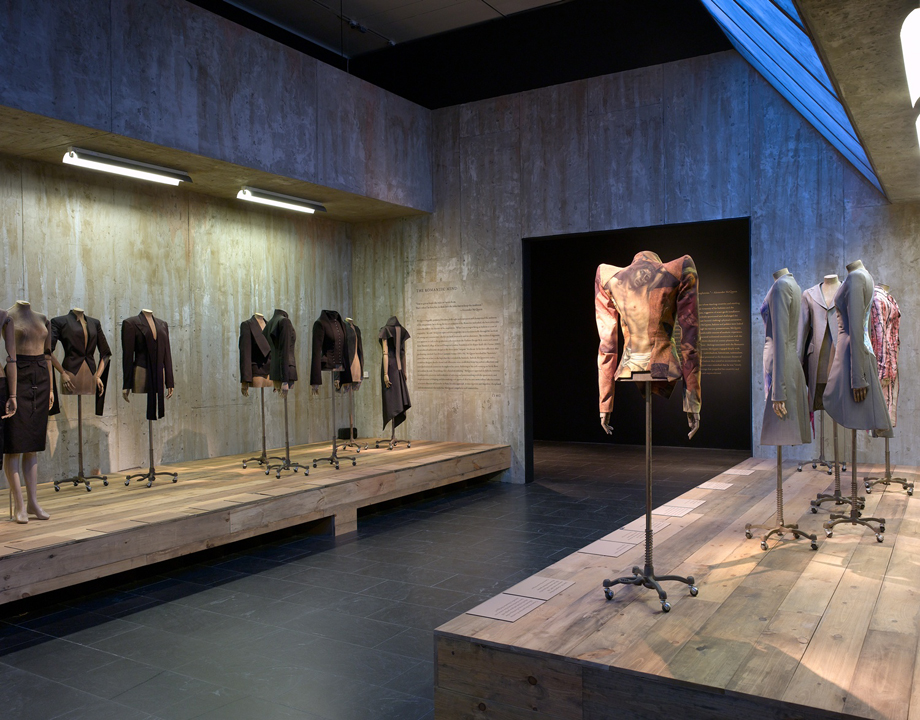 Romantic Gothic and Cabinet of Curiosities
"People find my things sometimes aggressive. But I don't see it as aggressive. I see it as romantic, dealing with a dark side of personality."
—Alexander McQueen
One of the defining features of McQueen's collections is their historicism. While McQueen's historical references are far-reaching, he was particularly inspired by the nineteenth century, especially the Victorian Gothic. "There's something . . . kind of Edgar Allan Poe, kind of deep and kind of melancholic about my collections," McQueen noted. Indeed, the "shadowy fancies" that Poe writes about in "The Fall of the House of Usher" (1839) are vividly present in the majority of McQueen's collections, most notably Dante (autumn/winter 1996–97), Supercalifragilisticexpialidocious (autumn/winter 2002–3), and the posthumous, unofficially entitled Angels and Demons (autumn/winter 2010–11). Like the Victorian Gothic, which combines elements of horror and romance, McQueen's collections often reflect opposites such as life and death, lightness and darkness. Indeed, the emotional intensity of his runway presentations was frequently the consequence of the interplay between dialectical oppositions. The relationship between victim and aggressor was especially apparent, particularly in his accessories. He once remarked, "I . . . like the accessory for its sadomasochistic aspect." This position is strikingly evident in the gallery "Cabinet of Curiosities," which focuses on atavistic and fetishistic paraphernalia produced by McQueen in collaboration with a number of accessory designers, including the milliners Dai Rees and Philip Treacy and the jewelers Shaun Leane, Erik Halley, and Sarah Harmarnee.
Featured objects: Ensemble, Dante; Ensemble, Supercalifragilisticexpialidocious; Ensemble, autumn/winter 2010; Dress, The Horn of Plenty; Ensemble, Eclect Dissect; "Spine" Corset, Untitled; "Coiled" Corset, The Overlook; Ensemble, The Hunger; Dress, It's Only a Game; Ensemble, No. 13; Dress, No. 13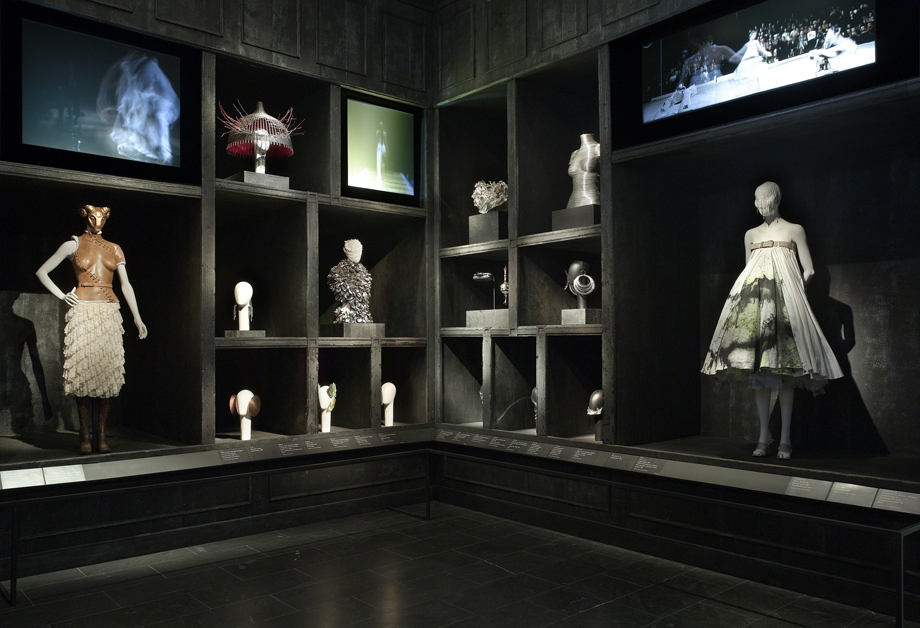 Romantic Nationalism
"The reason I'm patriotic about Scotland is because I think it's been dealt a really hard hand. It's marketed the world over as . . . haggis . . . bagpipes. But no one ever puts anything back into it."
—Alexander McQueen
McQueen's collections were fashioned around elaborate narratives that are profoundly autobiographical, often reflecting his Scottish heritage. Indeed, when he was asked what his Scottish roots meant to him, he replied, "Everything." McQueen's national pride is most evident in the collections Highland Rape (autumn/winter 1995–96) and Widows of Culloden (autumn/winter 2006–7). Both explore Scotland's turbulent political history. Highland Rape was based on the eighteenth-century Jacobite Risings and the nineteenth-century Highland Clearances, and was the first collection to introduce McQueen tartan. Shown on semi-naked, blood-spattered models that staggered down a runway strewn with heather and bracken, the clothes were intended to counter romantic images of Scotland. In contrast, Widows of Culloden, which was based on the final battle of the Jacobite Risings, was more wistful, featuring exaggerated silhouettes inspired by the 1880s. McQueen's message, however, remained defiantly political: "What the British did there was nothing short of genocide." Despite these heartfelt declarations of his Scottish national identity, McQueen felt intensely connected to England, especially London. "London's where I was brought up. It's where my heart is and where I get my inspiration," he said. His deep interest in the history of England was most apparent perhaps in The Girl Who Lived in the Tree (autumn/winter 2008–9), a dreamy quixotic fairy tale inspired by an elm tree in the garden of McQueen's country home near Fairlight Cove in East Sussex. Influenced by the British Empire, it was one of McQueen's most romantically nationalistic collections, albeit heavily tinged with irony and pastiche.
Featured objects: Dress, Highland Rape; Suit, Highland Rape; Ensemble, Widows of Culloden; Dress, Widows of Culloden; Ensemble, The Girl Who Lived in the Tree; Ensemble, The Girl Who Lived in the Tree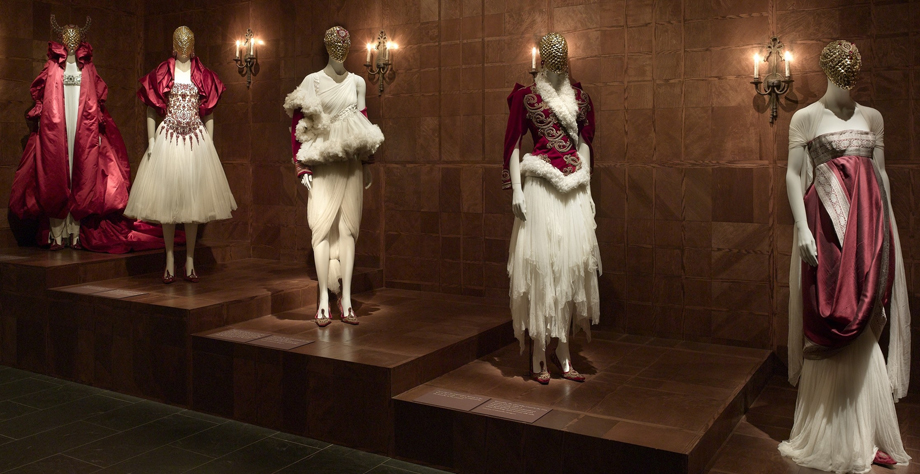 Romantic Exoticism
"I want to be honest about the world that we live in, and sometimes my political persuasions come through in my work. Fashion can be really racist, looking at the clothes of other cultures as costumes. . . . That's mundane and it's old hat. Let's break down some barriers."
—Alexander McQueen
McQueen's romantic sensibilities expanded his imaginary horizons not only temporally but also geographically. As it had been for Romantic artists and writers, the lure of the exotic was central to his work. Like his historicism, McQueen's was wide ranging—India, China, Africa, and Turkey all sparked his imagination. Japan was particularly significant to him, both thematically and stylistically. The kimono, especially, was a garment that he reconfigured endlessly. Remarking on the direction of his fashions, McQueen said, "My work will be about taking elements of traditional embroidery, filigree, and craftsmanship from countries all over the world. I will explore their crafts, patterns, and materials and interpret them in my own way." As with many of his themes, however, McQueen's exoticism was often expressed in contrasting opposites. That was the case with It's Only a Game (spring/summer 2005), a show staged as a chess game inspired by a scene in the film Harry Potter and the Sorcerer's Stone (2001), which pitched the East (Japan) against the West (America). Films often inspired McQueen, as did contemporary art. VOSS (spring/summer 2001), which featured a number of exoticized garments, including a coat and a dress appliquéd with roundels in the shape of chrysanthemums, was inspired by a photograph of Joel-Peter Witkin entitled Sanitarium (1983), which depicted an obese woman connected via a breathing tube to a stuffed monkey. On McQueen's runway, the fetish writer Michelle Olley played the role of the woman. Typical of McQueen's collections, VOSS offered a commentary on the politics of appearance, upending conventional ideals of beauty. For McQueen, the body was a site for contravention, where normalcy was questioned and the spectacle of marginality was embraced and celebrated.
Featured objects: Ensemble, It's Only a Game; Ensemble, It's Only a Game; Ensemble, VOSS; Ensemble, VOSS; Dress, VOSS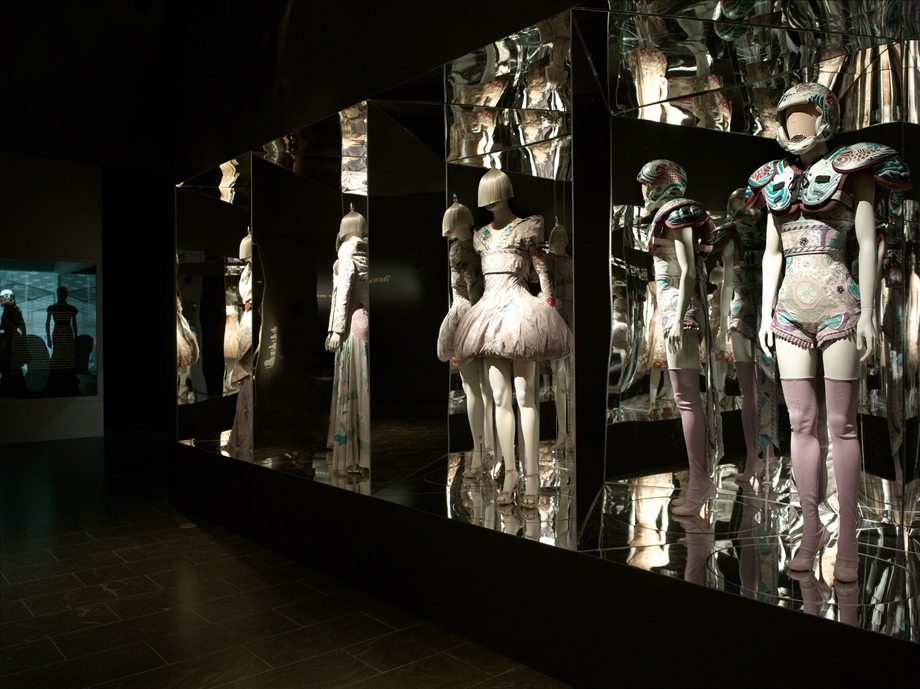 Romantic Primitivism
"I try to push the silhouette. To change the silhouette is to change the thinking of how we look. What I do is look at ancient African tribes, and the way they dress. The rituals of how they dress. . . . There's a lot of tribalism in the collections."
—Alexander McQueen
Throughout his career, McQueen returned to the theme of primitivism, which drew upon the ideal of the noble savage living in harmony with the natural world. It was the focus of his first runway collection after graduating, Nihilism (spring/summer 1994). He said of the collection, "It was a reaction to designers romanticizing ethnic dressing, like a Masai-inspired dress made of materials the Masai could never afford." It famously included a latex dress with locusts, McQueen's statement on famine. Many of the pieces were coated with mud, a conceit the designer repeated in Eshu (autumn/winter 2000–2001), a collection inspired by the well-known deity in the Yoruba religion. The clothes, including a coat of black synthetic hair and a dress of black horsehair embroidered with yellow glass beads, came close to fetishizing materials. This fetishization also occurred in It's a Jungle Out There (autumn/winter 1997–98), which was inspired by the Thomson's gazelle. The collection was a meditation on the dynamics of power—in particular, the relationship between predator and prey. Indeed, McQueen's reflections on primitivism were frequently represented in paradoxical combinations, contrasting "modern" and "primitive," "civilized" and "uncivilized." The storyline of Irere (spring/summer 2003) involved a shipwreck at sea and was peopled with pirates, conquistadors, and Amazonian Indians. Typically, McQueen's narrative glorified the state of nature and tipped the moral balance in favor of the "natural man" or "nature's gentleman" unfettered by the artificial constructs of civilization.
Featured objects: Coat, Eshu; Dress, Eshu; Ensemble, Eshu; Bodysuit, It's a Jungle Out There; Ensemble, It's a Jungle Out There; "Oyster" Dress, Irere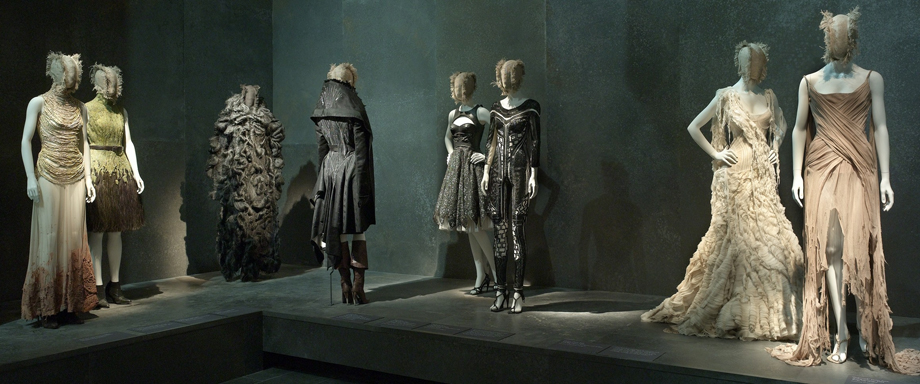 Romantic Naturalism
"I have always loved the mechanics of nature and to a greater or lesser extent my work is always informed by that."
—Alexander McQueen
Nature was the greatest, or at least the most enduring, influence upon McQueen. It was also a central theme, if not the central theme, of Romanticism. Many artists of the Romantic movement presented nature itself as a work of art. McQueen both shared and promoted this view in his collections, which often included fashions that took their forms and raw materials from the natural world. For McQueen, as it was for the Romantics, nature was also a locus for ideas and concepts. That is most clearly reflected in Plato's Atlantis (spring/summer 2010), the last fully realized collection the designer presented before his death in February 2010. Inspired by Charles Darwin's On the Origin of Species (1859), it presented a narrative that centered not on the evolution of humankind but on its devolution. The collection was streamed live on Nick Knight's SHOWstudio.com in an attempt to make fashion into an interactive dialogue between creator and consumer. For the Romantics, nature was the primary vehicle for the Sublime—starry skies, stormy seas, turbulent waterfalls, vertiginous mountains. In Plato's Atlantis, the Sublime of nature was paralleled and supplanted by that of technology—the extreme space-time compressions produced by the Internet. It was a powerful evocation of the Sublime and its coincident expression of the Romantic and the postmodern. At the same time, it was a potent vision of the future of fashion that reflected McQueen's sweeping imagination.
Featured objects: Dress, Plato's Atlantis; "Jellyfish" Ensemble, Plato's Atlantis; Dress, Widows of Culloden; Dress, Sarabande; Dress, Widows of Culloden; Dress, Sarabande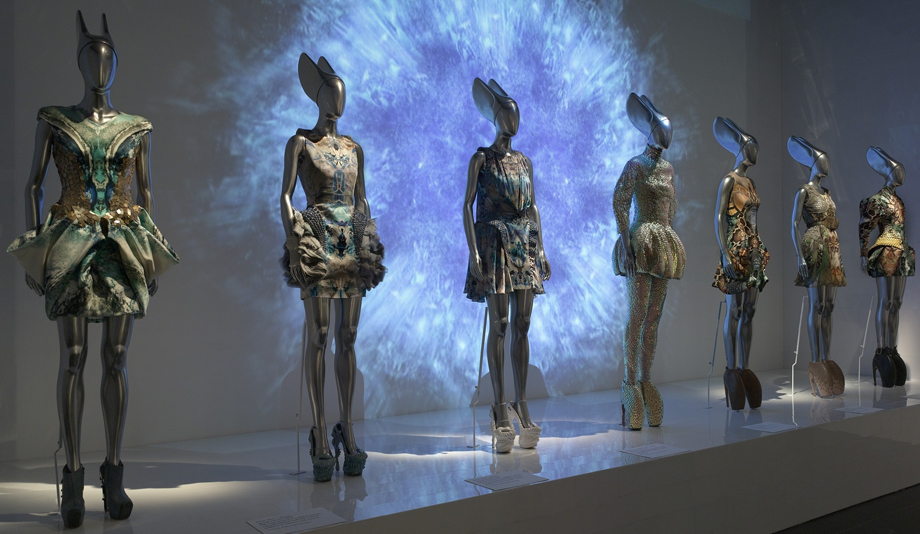 Gallery photography by The Photograph Studio, The Metropolitan Museum of Art
Jewellery by Shaun Leane at the Met
Shaun Leane
Leane & McQueen
IF you haven't yet been to check out the Savage Beauty exhibition of Alexander McQueen's work at the Met in New York, make sure you do before is ends in August. While you're there, be sure to check out the jewellery created by Shaun Leane's in collaboration with the visionary designer, who died in February 2010.
SEE SHAUN LEANE'S CREATIONS HERE
"To work with McQueen was a truly creative experience; he gave me a platform to which there were no limits," Leane told us. "He gave me the platform to push the boundaries in jewellery design and manufacture, allowing me to grow to be the designer I am today. To have my creations beside his in the Met exhibition is a true honour, it portrays a strong and innovate collaboration we had." The Savage Beauty exhibition runs until August 7 2011; visit www.metmuseum.org for more information.
Aztec jewelry
For centuries Aztec jewelry has fascinated everyone who has had the chance to see it. From the necks, ears and wrists of the nobles, the jewelry has made its way into museums and today replicas are sold all over the world.  But what was it really like?
Aztec art was generally owned by the upper classes, and jewelry was no exception (read more about general Aztec art).  It was very common for emperors, for example, to wear necklaces and earrings.
Craftsmen were no part-time amateurs.  They dedicated their lives to their craft.  In a world permeated with religion and symbolism, they had no shortage of work to do.  Jeweller would sell some pieces in the marketplace, where a huge variety of colourful items were sold.
When there was a major religious or state occasion, the nobility would glitter with a wide range of jewelry, though it looked a lot different than most cultures today.
Materials and creation
Aztec jewelry was made with a rich variety of materials, and often more than one type of material went into one piece.  Mosaics were sometimes created by placing bits of precious stone into a background of clay or wood.  Commonly used materials were copper, gold and silver, shells, clay, wood, rock such as obsidian, and feathers.  Various precious stones were used, such as jade, quartz (such as amethyst), opal, moonstone, and turquoise.  These were highly polished when used in Aztec jewelry and ornaments.
Very little of the beautiful goldwork of this era survives today – whatever could be found at the time of the Spanish conquest was melted down.  Still, a few examples do survive.  (In 1975, some Aztec gold was found by an octopus fisherman.  Known as the Fisherman's Treasure, it's on display in Veracruz)  See some beautiful colour pictures of Aztec jewelry here.
George C. Vaillant (in his book The Aztecs of Mexico) gives us an idea how metal work in Mexico was done:
Copper was cold-hammered; the art of adding alloys to make bronze had not reached Mexico from the south, but the gilding of copper and mixing of gold and copper were adopted by Mexican goldsmiths.  Copper was cast into bells and ornaments, and the process, used also for gold, was the cite-perdue, or lost-wax, method.
The desired shape was modelled in clay, over which was dusted finely ground charcoal, followed by an even layer of wax.  This coating was also dusted with charcoal and the whole enclosed in clay, which was perforated at the top and bottom.  The molten metal was poured in at the upper hole after the wax was melted and the lower orifice plugged.  When the metal cooled the cast was broken and the finished object removed.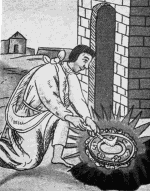 An Aztec gold worker in a picture from the Codex Florentino
Though gold was used, silver was popular as well because it was (and is!) abundant in Mexico.  Many of the other materials were imported – gold from the south, turquoise from the north, conch shells from the east.
Stones were cut and polished using course and fine abrasive grit, much like we would use sandpaper.  Simple drills were also used to bore holes in stone pendants or shells.  Metal was often carefully hammered into sheets or other forms.
Finished Aztec Jewelry
One common form of Aztec jewelry was the ear plug (also called ear spools). Examples of these large plugs can be seen in Aztec masks.  Men and women both wore these.
Men would often wear ornaments in their noses (through a hole in the nasal septum).  Men would also wear jewelry suspended from a slit in their lower lip.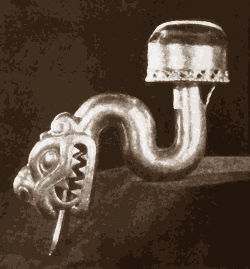 An example of gold Aztec jewelry – a lip ornament.
In this finely crafted piece, the snake's tongue even moves.
Of course there were necklaces with charms and pendents, armlets, bracelets, leg bracelets, and rings as well.  Often very ornate, Aztec jewelry would feature natural shapes, but would also be crafted into the shapes of birds, and reptiles, often with a religious significance.  Small tinkling bells were popular, often fashioned to look like flowers.  The little bells would then be hung from necklaces.